End Of The Year Announcements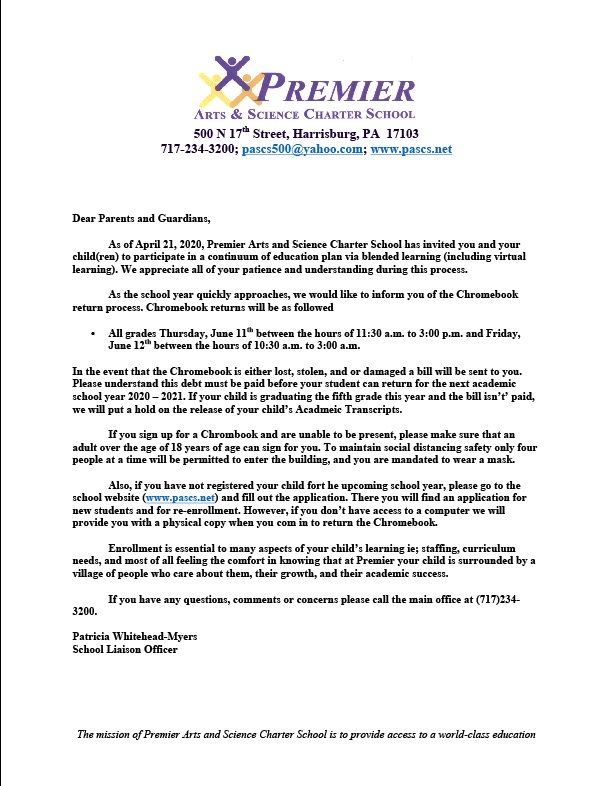 2019 - 2020 Summer Enrichment Packets For Students Grades K - 5
Charter Schools in Pennsylvania Matter
-It is important for families to have the ability to decide where their children attend schools and here is how you can advocate keeping Charter Schools open
BUILDING UPDATES
April 9, 2020, Pennsylvania Schools Will Remain Closed Through The Calendar Year


-Premier Arts and Science Charter School was notified by Governor Wolf that all Pennsylvania School Districts will remain closed through the end of the calendar year.
March 30, 2020, Pennsylvania Schools Closed Indefinitely




-On March 30, 2020, Governor Tom Wolf announced that all Pennsylvania Schools will continue to remain closed indefinitely. PASCS is closed. Access will be unavailable.

March 23, 2020, Mandated Closure Extended Through At Least April 6, 2020

March 19, 2020, PASCS Closed
Mandated School Closures
March 13, 2020


-In compliance with Governor Wolf's mandate, all K through 12 Pennsylvania schools will be closed for ten business days, effective March 16th. This means that Premier Arts and Science Charter School will be closed now through March 27, 2020. Instructional packets will be provided for pick up for Premier's Kindergarten through Fifth-grade students on Tuesday, March 17th between the hours of 8:00 a.m. and 4:00 p.m. Please be on the lookout for additional information and updates.
Testing Cancellations
COVID-19 Resources
COVID-19 INFORMATION/RECOMMENDATIONS - MULTIPLE LANGUAGES